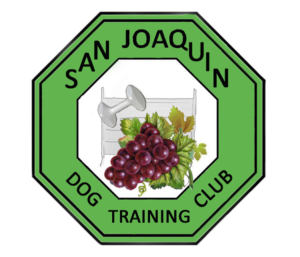 Our Mission:
Established in 1950, the SanJoaquin Dog Training Club's mission is to educate the public about the enjoyment and responsibilities of dog ownership through training classes, exhibitions, seminars, obedience, rally and scentwork trials and tracking tests.  We are an approved show-giving club under the American Kennel club.

The original Leash for Lunch Bunch circa 1982
Our 2023 Officers and Board Members
             President:  Susan Osborn-Stratton 
Vice President:  Julie Rust
Past President:  April Rifenburg
Secretary:  Marsi Newman    
Treasurer:  Katy Stella
Membership Secretary:  Jennifer La Viola
Board Member:  Martha Ho
             Board Member:  Kristia Suutala
         Board Member:  Debbie Voelker
Board Member: Nancy Strohmaier

Get More Involved with your dog
Many of our club members are involved in different competitive venues, i.e.  scent discrimination, tracking, obedience, rally obedience, field, conformation, dock diving, lure coursing, and have been for many years.  An excellent opportunity for new club members to meet a mentor to help them get involved in their chosen sport.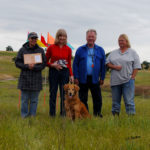 INSTRUCTORS
Our club is blessed to have some wonderful instructors that make it easy for you and your dog to work as a team and strengthen your bonding experience.  Proper guidance as well as patience and positive reinforcement in a group setting is the hallmark to our success!
One big advantage we enjoy is the teaching strengths of our instructors who have vast knowledge and personally participate in trials, tests, and shows.  Our instructors make sure they keep on top of new rules, updates and offerings to better serve our students.
We look forward to seeing new people join us as well as the many returning students that enjoy our positive philosophy.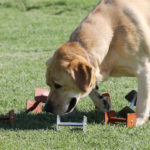 EXPLORING OPTIONS WITH YOUR DOG
Sometimes dog owners are not sure what dog related topics interest them, or perhaps they are not sure if their dog is up to learning something new.  That is one of the VERY BEST reasons to drop by.  You can try out everything from teaching your dog basic commands to learning tricks!  Maybe you discover that you might want to try out tracking or rally but you're not sure what that involves.  This is the place to come!  Spend some time chatting with our members and instructors and you might discover that you and your dog would make an excellent obedience team and decide to compete.  Perhaps you want to earn a Trick Dog Title or a Canine Good Citizenship Title and we can help you be successful   There is such a wonderful and exciting variety of things that you and your dog can enjoy, even if it's just learning to relax without begging for that cookie you're eating.   You won't know what you are missing until you try it out.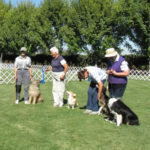 WHY CONSIDER SJDTC
There are so many places to take your dog for training.  So why do we feel so strongly that we offer our students an all around superior experience?  The answer is simple.  Our location allows us to hold classes rain or shine!  Easy and close parking that is not on busy streets and we ask everyone to bring their dog's vaccination record on the first night of class.  We start our classes in the early evenings when most people are off work, and run them for six consecutive weeks.  Although they are group classes, we have plenty of instructors that can help someone that needs extra help.  WE WANT YOU AND YOUR DOG TO BE SUCCESSFUL!  And we are always willing to answer questions.  We also hold seminars and events for special topics.  If you find that you are really interested, you can become a club member!  We have a great group of people that own all different pure bred dogs or shelter dogs.  That is one of the main reasons so many vets, shelters and dog owners recommend us.